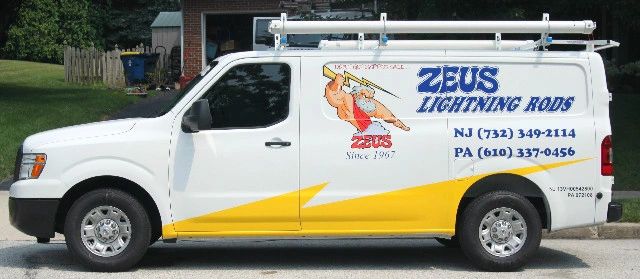 About Zeus
Zeus Lightning Rods was founded in 1967 in Toms River, New Jersey. Since then Zeus has grown to a multifaceted business specializing in both residential and commercial lightning protection across the Tri-State and Mid-Atlantic area. Our team has provided superior quality protection to hundreds of customers over our history. In an age where cutting corners has become the norm, we here at Zeus only do it one way,
the right way
.
At Zeus, we believe that quality workmanship isn't expensive, its priceless. We hope you share this belief and we look forward to hearing from you in the future.
We are proud members of following orginzations:
The Lightning Protection Institute
Underwriters Laboratory
The National Fire Protection Association
United Lightning Protection Association
Zeus uses quality UL listed materials manufactured by
East Coast Lightning Equipment Inc
.